Go for the Lithuanian gift! Brolių Medus offers uplifting, delicious, natural and healthy Lithuanian gifts (business gifts, souvenirs) for close ones, friends, business partners and employees. Lithuanian honey is the most precious gold, a source of health, energy and good cheer. Is there anything better than giving a gift that shows you care and getting a smile in return?
Brolių Medus products are exceptional edible Lithuanian honey gifts from nature! We offer Lithuanian honey and bee products: spring flower, linden, buckwheat honey and honey treats — unique products with freeze-dried berries that have become a favourite with many. Want to surprise a friend, aunt or colleague with your originality? Give them the gift of honey treats: the pleasures of honey enriched with raspberries, peppermint, cranberries, quince, rowan-tree berries and sea buckthorn berries. And no sweet tooth will be able to resist the temptations of honey with chocolate chips. The flavour will take you in and mesmerise you.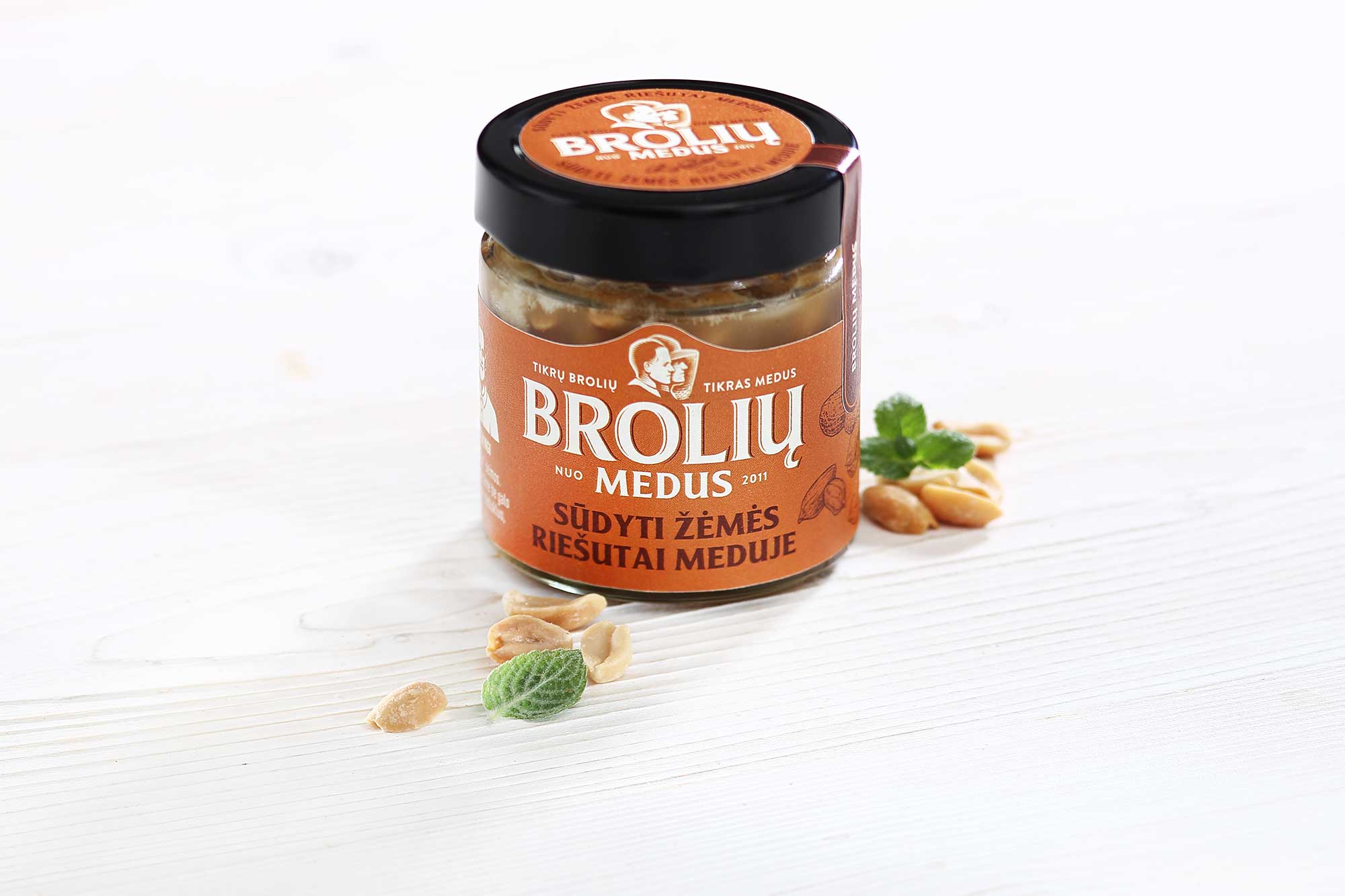 TOP new Brolių Medus gifts: honey with salted peanuts and assorted nuts in honey. Loaded with vitamins and sure to lift the spirits of anyone with an active lifestyle! Ingredients: honey, salted peanuts, cashews, walnuts, hazelnuts and almonds. Honey with salted peanuts and assorted nuts in honey will make a great gift for the physically active!
Honey in the national colours is a priceless gift and delicious souvenir to anyone who loves Lithuania or is always longing for it. This Brolių Medus jar contains three layered honey treats: the yellow layer is honey with sea buckthorn; the green layer — honey with peppermint; and the red layer — honey with raspberries. These three flavours contain all of the country's love and its closeness. This pot of honey in the national colours is an exceptional gift for international business partners: Lithuanian honey will help you build a warm and trusting relationship.
Brolių Medus sets of Lithuanian honey are happy gifts for the recipient's health and energy. This is a practical, delicious and heart-warming choice. Brolių Medus sets containing honey, bee products and honey treats (teas) will surprise the recipient with their originality. So if you like to put a lot of thought into your Lithuanian bee souvenirs and edible gifts, these bundles of honey and bee products will definitely surprise the recipient with your love and care.
Why choose Brolių Medus gifts, honey souvenirs for business and Lithuanian gift sets? Because they're especially uplifting! Only the happy bees of two happy beekeeping brothers know the recipe for truly happy honey and delicious honey treats.
You can purchase Lithuanian honey gifts at our e-store