Hello! It's nice to see you here
Because you clicked on this tab, you probably want to get to know us! So, as you already probably figured out, we are real twin brothers and beekeepers. We love people and bees and we adore the products that bees create. Even though we really enjoy beekeeping, lately we've been spending more time doing feel-good stuff, making customers happy and telling stories about our bees both online and at our bee farm. After all, it's so great when more people learn to live in peaceful harmony with bees and understand them.
We may be similar, but we're also very different…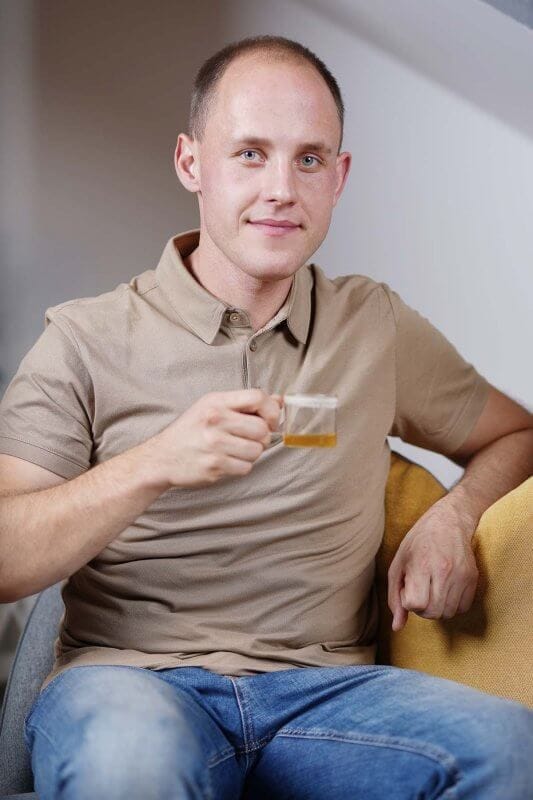 I'm Ignas,
the early bird on our farm, loving packager of deliveries, inventor and, of course, the face of the company. I love doing what we do because not only do I get to be a beekeeper and admire nature, but I also get to bring joy to others. . It really is an indescribable feeling when you get a word of thanks not just for sending a delivery but for all the positive emotion and good vibes you bring to the table. That's priceless!
But if someone were to pick me up along the way, I'd gladly leave the bees to Vilius for a week or two and go for a spin at the Dakar Rally…
I'm Vilius,
It's me that usually replies to your calls, comments and messages. And, as a matter of course, when I became a beekeeper, I also had to learn to be an operator, photographer, writer, speaker and even a little bit of an artist… How can you not like this kind of job?!
If you follow us on social media, you should have noticed that I really really like to cook. With honey and without…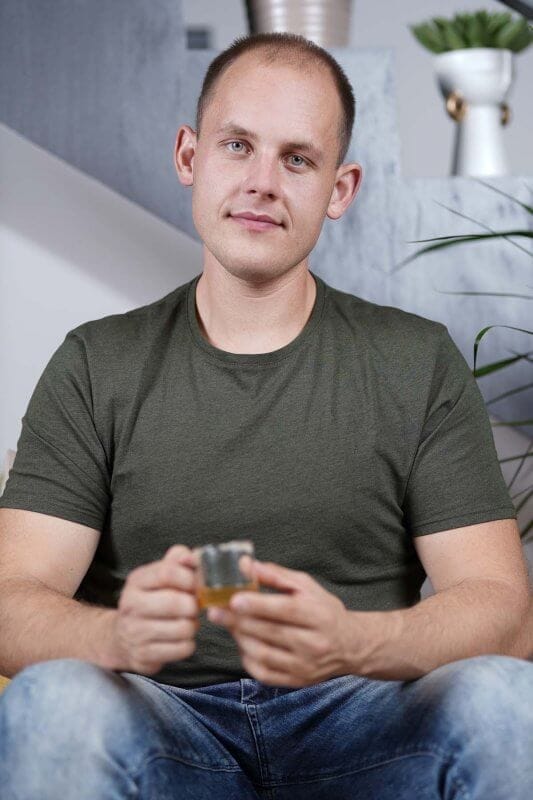 And this is how it all started…
We restored our grandfather's old hive and caught our first swarm of bees straight off a branch… Perhaps we've always been optimists? (Just don't try this at home.) So in that first year we set up three hives. And thus began our eternal love for bees…
LET'S DO SOME COUNTING
This is how the number of hives we had grew as the years went by.
By the time we graduated from secondary school, we already had 14 bee families, and we shared the honey they produced with our closest family and friends.
During our student days, we did not expand much, only adding a couple of bee families to our farm. But we still had so much learning to do…
In order to turn our hobby into a serious endeavour, Vilius left for Norway, and upon returning, added a further 30 families to our bee farm. We began to grow.
Then followed several trips to Germany and an internship with beekeepers that were using the most advanced beekeeping technology…
This winter, our farm is home to…
as many as 315 bee families.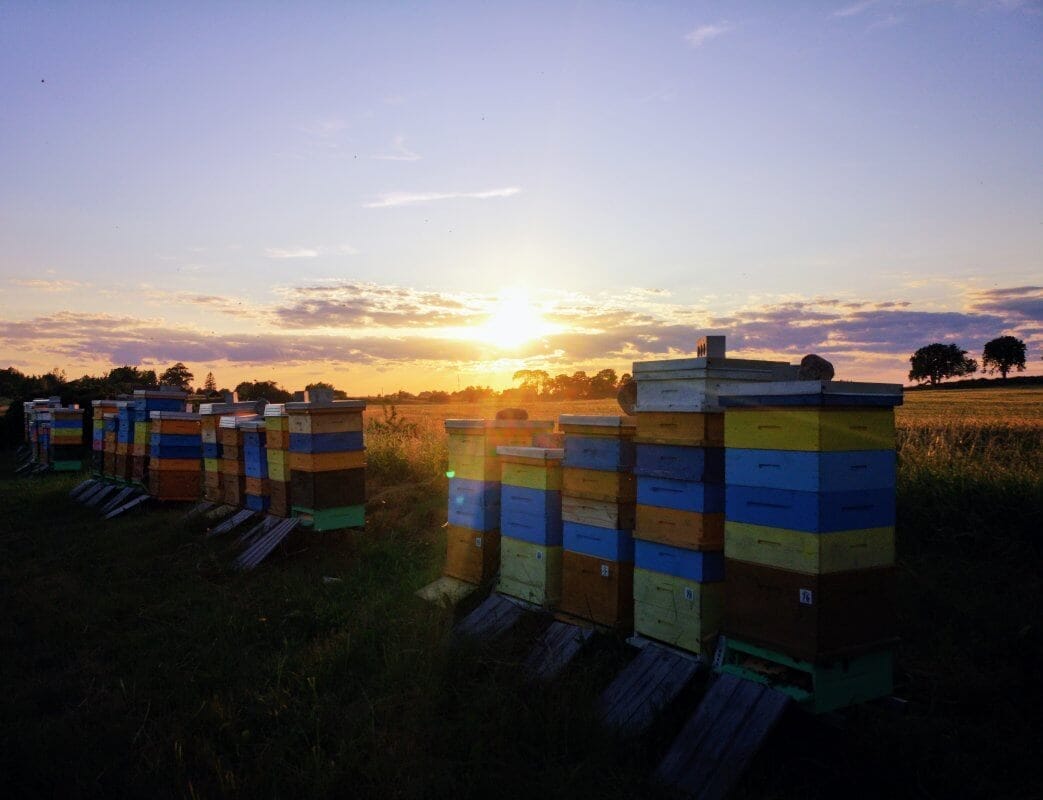 To be honest, there was a bit of everything: joyous moments, mistakes, discoveries and lessons…
But now we can take pride in having been recognised with the Lithuanian Farm of the Year 2020 (Metų ūkis 2020) award
'Our best work is the work we do of our own free will and with a natural inclination'.
(Charles de Montesquieu)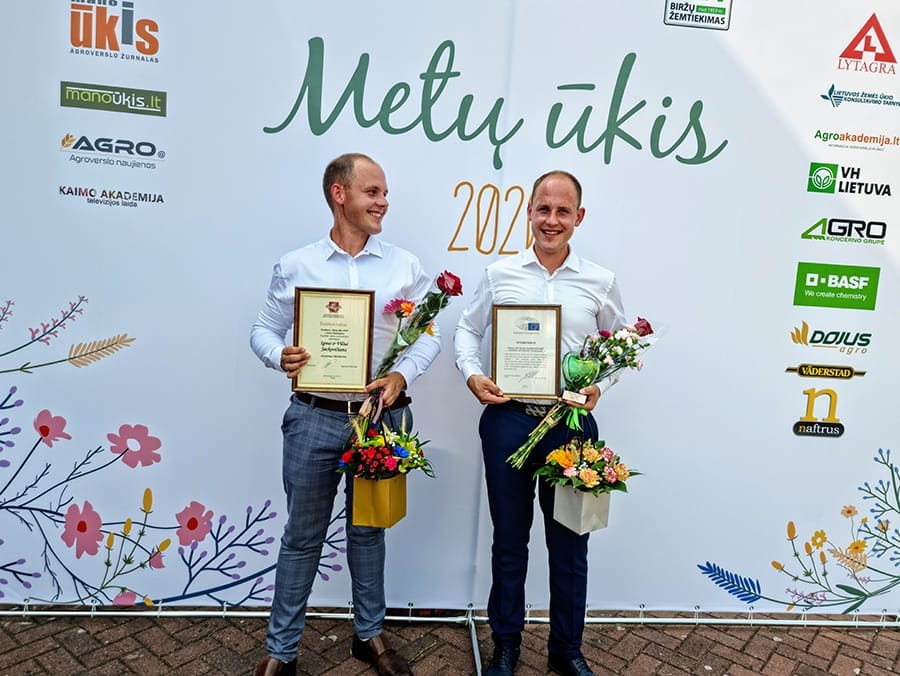 The Farm of the Year 2020 award has a very symbolic meaning to us – it is the crown for the results we have produced in our many years of beekeeping and an apt reflection of our painstaking labour, efforts and hearts.
In a competition of national significance, the purpose of which it is to notice those farms that have made the greatest progress in farming development, it is an honour for us to have been recognised 'for contributions to the development of the country's beekeeping and for sincere dedication to and love for our work'.
The first stage of the competition took place at the municipal level. Mid-July 2020, the Kupiškis branch of the Lithuanian Farmers' Union announced the district's winners.
A year later, on 6 July 2021, the mayor of Kupiškis District awarded us with the mayor's certificate of gratitude 'for making the name of the Kupiškis region known by cultivating the traditions of beekeeping and providing meaningful educational activities'. Just a few days later, on 15 July 2021, we received the Farm of the Year 2020 award in the main competition.
We are sincerely grateful to everyone for this recognition and their heartfelt support!
Bear Brothers gummies by Lithuanian brand Brolių Medus awarded with gold medal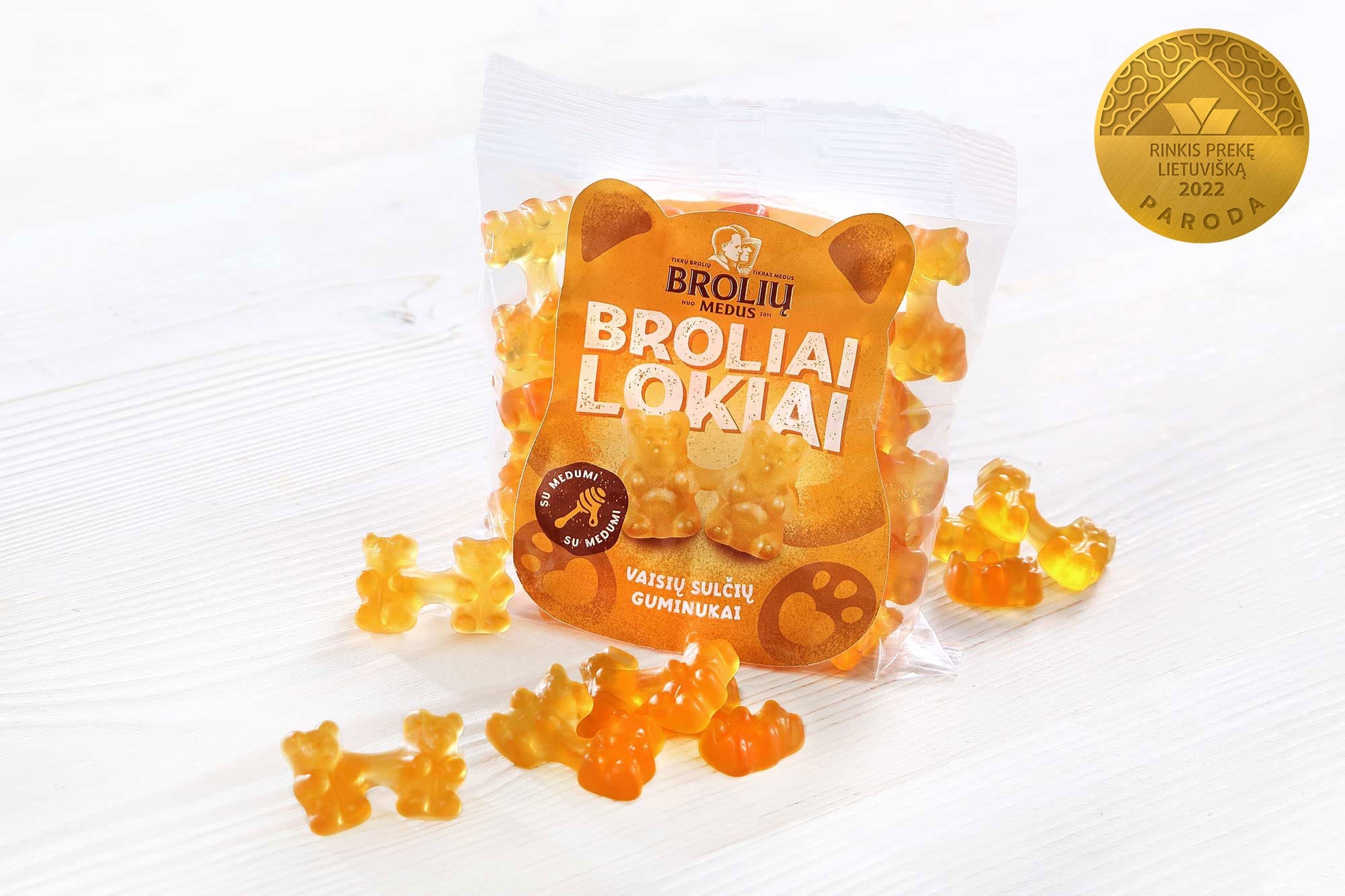 GOLD at last! And who would have thought that the Bear Brothers would be such a triumph for our Brolių Medus brand! First brought out into the light of day in May of 2022, these fruit juice and honey gummies instantly became a favourite among enthusiasts of honey. On 7 October of the same year, they earned gold in the food industry product category at the Choose a Lithuanian Product 2022 (Rinkis prekę lietuvišką 2022) awards!
If we're being honest, my brother and I were a little sceptical about the idea of the Bear Brothers at first. When supermarket shelves are overflowing with every flavour and shape under the sun, it seemed scarcely possible that consumers would be tempted by one more product in the same category. But we decided to go for the risk and we're already raising our champagne glasses to the health of our Bear Brothers.
The annual fair was hosted by Ekspozicijų Centras, UAB along with the Lithuanian Confederation of Industrialists and the Kaunas Regional Association of Industrialists and Employers. At the Choose a Lithuanian Product 2022 fair, products were selected by specialist committees to be recognised with gold medals and diplomas in a competition announced in advance of the event.
The aim of the fair is to showcase products and services made in Lithuania, promote the consumption of Lithuanian products and strengthen cooperation between the country's manufacturers and the suppliers that provide them with relevant services and equipment. This year, the event was a record-breaking one based on the number of applicants: over 260 brand creators participated in the fair.
Brolių Medus on the gold-winning Bear Brothers!
Drop by and try out our: Bear Brothers gummies
https://broliumedus.lt/produktas/vaisiu-sulciu-guminukai-broliai-lokiai/
We are sincerely grateful to everyone for their appreciation and sincere support!
Brolių Medus among the greatest: awarded with the prize for significant exports and nominated in the "Future of the Year" category
How great it is to be recognised! 2022 On 2 December during the Annual Assembly hosted by the Panevėžys Chamber of Commerce, Industry and Crafts (PCCIC), we were recognised as many as two times among the best-performing companies and businesses of 2022 – with an award for significant exports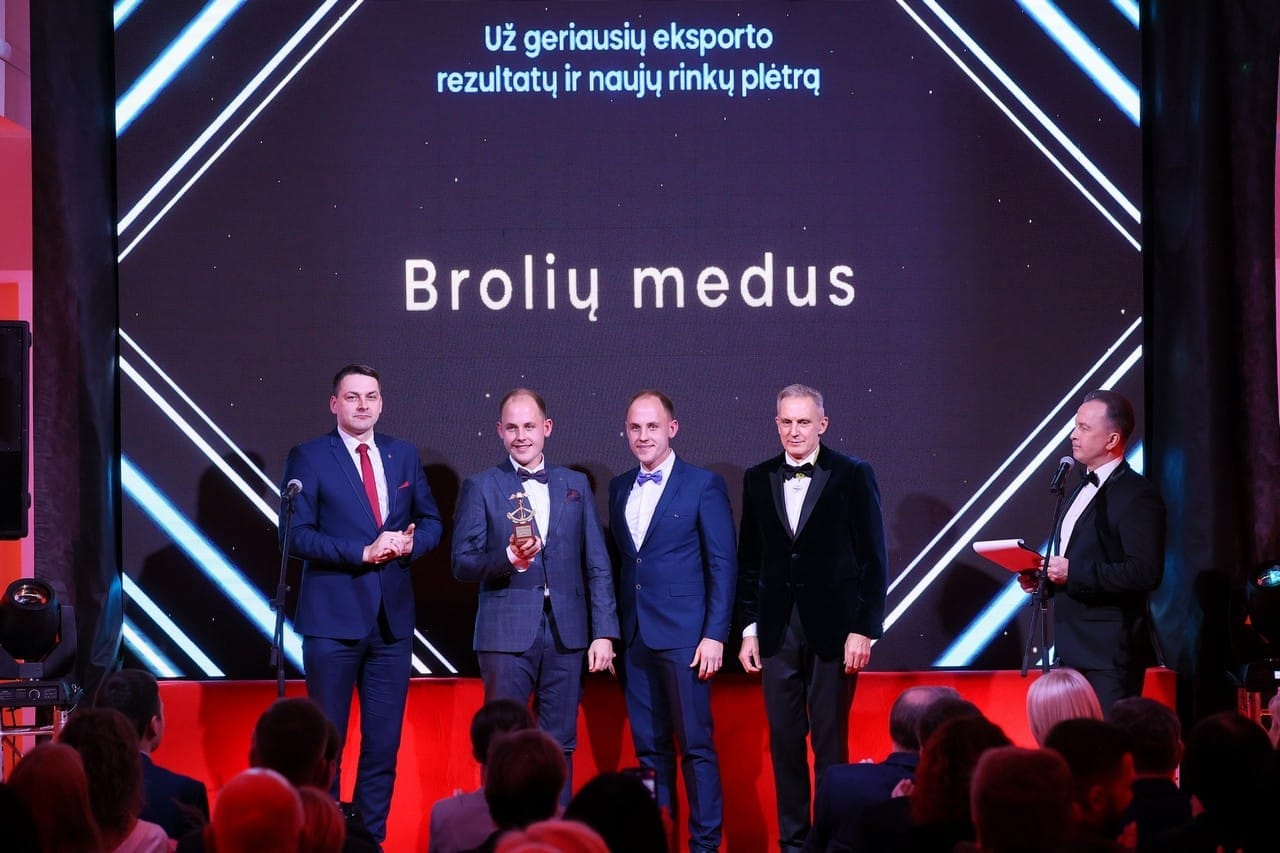 and a nomination in the "Future of the Year" category.
The honourable "Lithuanian Export Prize" was awarded to the Brolių Medus farm for successfully representing Lithuania at the World Expo fair in Dubai and increasing exports by a factor of more than two in 2022.
No less significant an achievement was the PCCIC's nomination of Brolių Medus for "Future of the Year", which is awarded to a next-generation individual, team or organisation creating the future of Lithuania with their talent, determination and achievements.
Currently, the PCCIC unites over three hundred members. Brolių Medus became a member of the organisation in ????. year.
Two brothers, double the achievements. We are sincerely grateful and happy!