Increasingly more often, young Lithuanian companies like to emphasise their sustainable business model and environmentally friendly approach. This is why great attention is paid to the quality of raw materials used in production and natural ingredients. Businesses are saying goodbye to composite packaging, encouraging zero-waste manufacturing and turning to nature itself. So it comes as no surprise that ever more sustainability promoting and eco-aware companies are accommodating bee farms on the roofs of their urban headquarters But do bees really belong on the roofs of skyscrapers?
We believe that even the smallest step towards a more sustainable environment contributes to protecting nature and, most importantly, engages others. However, visions of sustainability should not turn into trends that destroy the natural processes of nature. In London, Paris, New York, Berlin and other large cities, beehives have been cropping up on buildings for a while now. Little by little, this idea is being adopted by Lithuanian companies. Just recently, four bee families — about 320 thousand bees — were set up on top of two business centres in Vilnius.
Brolių Medus received several invitations to accommodate their bees on the high-rise roofs of the capital, however, it is the duty of every responsible bee-keeper to evaluate whether a proposed location is truly suitable for bees to live in naturally and harvest nectar. Siekiant užtikrinti pilnavertį bičių gyvenimą mieste, būtina pasirūpinti tam tinkamomis sąlygomis, reikalinga infrastruktūra. The hive area must recreate the natural habitat of bees. Otherwise, urban beekeeping might become just as sad an affair as the aquariums of life fish that only recently disappeared from our supermarkets.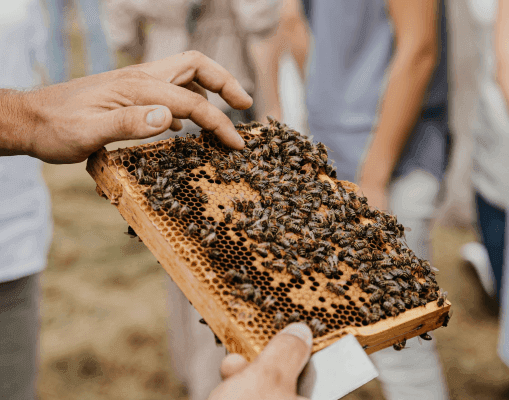 We cannot deny the fact that setting up hives in urban environments is beneficial for cities and their residents. By pollinating flowers, bees contribute to the greenness of a city. This means more oxygen and cleaner air. We can also leave questions of the quality of urban honey undisputed. However, city dust, conditioning units, car exhaust and other environmental pollutants can have a great impact on the bees' life span – shortening it by half.
We're not saying that urban beekeeping is impossible Just the opposite — it's a very praiseworthy step towards sustainable business. But we would once again like to emphasise that it is crucial that we provide bees with suitable conditions. While a location at the very heart of the city centre isn't the best place for a bee farm, the city limits could be ideal. An inspiring example is the bakery Biržų Duona, who set up our hives on the edge of the city: in the spacious territory of a solar power station, in the vicinity of a forest.
The 15 hives they set up in the Biržai region were impressively decorated by the students of the Biržai Art School. In these colourful and uplifting works of art, Brolių Medus bees made their homes. In the future, the honey harvested by these busy bees will be used by the bakers working at Biržų Duona. It's a great thing when the business development values of two companies coincide — this is a true opportunity to reach for more sustainable goals that in turn contribute to creating a more sustainable society. Happy environment = happy bees = happy honey = happy all of us!